~33 months~
We are back in the game of blogging. Here is the highlights of the last week. I did a letter A day. I first planned to do it for a whole week but that didn't work out.
At touch a truck last weekend.
Sweetdude
and I took
Girlygirl
and our two nephews to touch a truck in
Lombard
. They all three loved it. Not sure what they are learning but it was fun.
We planted seeds in front of our house. We are still waiting for them to grow but it was fun.
We found a worm.
Girlygirl
won't touch it but she like looking at in on her
shovel
.
Mixing paint in a bag.
Play dough
.
Girlygirl
favorite she could play for hours.
Working on letters while
fishing
.
Rug time.
Really
it is a towel. More about it soon. This day she got her stacking cups, Elmo ( like Mr.
Potato
head) and
Doodle Pro
.
Giving baby bath in the sink. She loves it.
Making apple prints. She didn't like it at first but when i got her to do it she had fun.
Working on
opposites
puzzle. We did this a few weeks ago and she didn't get it.
Matching socks. Works great it helps me do a job I hate and helps her learn to match and the life skill of
laundry
.
Rug time again. This day she had Mr.
Potato
Head, three books and a box of little dolls.
Letter A lunch. She didn't like most of it but she did try everything.
Playing with
Tupperware
learning to share. Not easy for a only child.
"Reading" books to her frog.
Getting dressed. She is good at when she want to change in the mild of the day but I am now making her in the morning and at night too. Without help. She knows how and I don't want to have to do it all the time.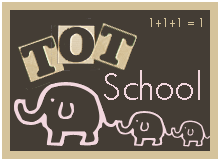 Cheek out what other are doing for their Tot School Click the link above.